The Best Medicine Ball Workouts & Exercises
Are you bored with your old workout routine using traditional weights? Do you want to strengthen your body and burn fat at home without expensive equipment? Then, you should consider doing medicine ball workouts.
This simple equipment is really versatile. There are so many medicine ball exercises you can do to train each of your muscles. Also, it is excellent for adding extra resistance to your cardio workouts to burn even more calories and to develop your endurance.
If you have ever seen fighters such as boxers, you know they also use it for conditioning and to develop functional strength.
Most of the fitness enthusiasts use it for only for abs workouts, but in the list below you will see that that there are so many other ways you can use it. It is perfect for total body, arms, shoulder, legs and chest workouts as well.
So, do not undervalue the power of the med ball. It is an excellent tool to boost your training and to add versatility to your routine.
Here is a long list of the best med ball moves and routines that you can filter by body parts. And if you find this collection useful, do not forget to share with your friends.

1
10 min Beginner Abs-Toning Medicine Ball Workout
If you haven't used the medicine ball for training your abs before or you are new to workouts then you can start with this routine.
2
The Best Medicine Ball Core Exercises
Learn what are the most beneficial moves to strengthen your entire core.
3
Crazy Core Medicine Ball Circuit Workout
Seems to be a not so hard routine but after doing 5 rounds and the suggested repetitions you will feel the burn in your stomach.
4
Traditional & Special Medicine Ball Ab Exercises
Within this video you can learn some not so well-known exercises you can do to strengthen and tone your midsection.
5
Cardio Interval Abs & Core Workout
If you have belly fat you know the best way to get rid of it is to do fat-burning cardio workout. Well, this routine is the combination of cardio and efficient abs exercises. So, you will not strengthen your abs but also burn belly fat.
6
The Dynamic Abs Workout with Medicine Ball

Did you know that there are a lot of standing abdominal exercises that train your abs as well as the ones you do on the floor? Even better, these movements help to burn fat since more muscles are engaged at the same time. You can find a many standing ab workouts here.
7
Simple Ab Exercise With a Medicine Ball & Your Partner
Do you work out with somebody? Then, try this simple abdominal exercise.
8
Easy Arm Workout for Beginners
Do you need a quick and easy arm workout? Then, try this easy routine.
9
Arm Exercises with a Medicine Ball on the Floor
Learn a few exercises you can do on the floor to train your arms.
10
5 Min. Abs + Arms Fat Burning Workout
Try this high intensity workout to burn fat and tone your abs and arms at the same time.
11
How To Train Your Biceps With Medicine Ball
It is fact that biceps curl is one of the best moves to strengthen your arms. Have you ever tried it with a medicine ball? Instead of using heavy weights use a lighter ball and do high number of repetitions. You are going to feel it.
12
Triceps Extension with Medicine Ball
Standing triceps extension is one of the best exercises to strengthen your triceps. Do it with your ball.
13
Shoulder Rotator Cuff Exercises With a Medicine Ball
To tell the truth I use my ball mainly for shoulder training because there are so many effective exercises out there. You can learn a few great moves from this video.
14
Squat-Shoulder Press: Full Body Exercise (Legs, Butt, Core, Arms)
This is an excellent compound exercise that works almost all the muscle groups at once.
15
Medicine Ball Shoulder Press: Upper Body Exercise
This is a good movement for beginners to train the shoulders and arms.
16
Medicine Ball Leg Workout
A quick workout to strengthen your legs but there are moves for the entire body.
This is a really creative exercise to strengthen your leg, but also increase your stability and posture.
18
How To: Supine Medicine Ball Chest Throw
This is an exciting exercise to train our chest.
This push-up variation seems to be not so hard, but you need strong upper body to keep your balance. Excellent move for triceps, chest, shoulders and abs.
20
Single-Arm Medicine Ball Push-Up
If you felt that the traditional push-up with your ball was easy, then try this one-arm version.
21
Full Body Medicine Ball Workout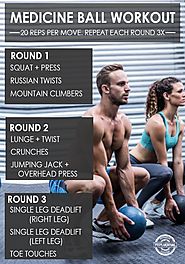 A complete workout routine to burn calories and strengthen your entire body.
24
25 Minute Med Ball & Step Total Body Workout
10 butt shaping, fat blasting moves to build and tone every muscle in your body. This workout burns 228 - 313 calories.
25
67 Med Ball Exercises In 11 Minutes
Want to learn more medicine ball exercises? Check out this video and learn how many creative ways there are to use this fitness equipment.
Did you like these exercises and workouts with a medicine ball? Share with your friends.