Last Updated on
You know if you want to be healthy and lose weight keeping your body hydrated is a critical habit. The best drink you can have is without doubt water, but just drinking it all the time, well, is boring. We can buy water from stores with some flavor but who knows what they put into those drinks?
What is the solution to be hydrated and enjoy what you drink at the same time?
Make your homemade fruit infused water.
Tasty, healthy and easy to make.
Plus, there are hundreds of fruit infused water combinations you can choose from to find a taste that you enjoy the most.
But here I'm going to focus on the apple. Why? Because it is one of my favorite fruit and it matches well with other spices and plants. Plus, no matter which apple water recipe you choose below, it is going to be delicious.
Apple infused water benefits
Low in calories.
Have fresh and natural taste that most of the people like.
Increases your metabolism.
Contains powerful antioxidants, so it slows the aging process.
Supports your digestion.
Helps to detoxify your body from toxins.
Thanks to a lot of vitamins you have more energy.
And these are just a few. To sum up, drinking it helps you to lose weight and keep your body healthy.
Apple flavored water recipe ideas
Below, I have collected a few infused water recipes that are made from apple, or one or more extra fruit or veggie.

Watch this video about how to make a powerful detox drink from green apple and cucumber.
2
Apple and orange infused water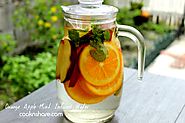 My favorite detox water with orange, apple and mint. I usually start my mornings with this yummy drink.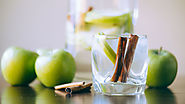 The cinnamon gives not only a delicious taste to your water, but it has a lot of health benefits, among them it supports weight loss. Read about them here.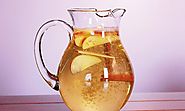 A refreshing drink would not be complete without a little lemon. This is an excellent drink to gulp after a hard workout.
5
How to make apple water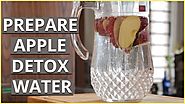 This is the basic recipe. Learn how to prepare it.
Conclusion
As you can see preparing apple infused water is really easy, but the outcome is a tasty and nutritious drink that you can have whenever you want.
Related reading: