Last Updated on
A Roman chair (hyperextension bench) is the best exercise equipment you can have at home if you want to strengthen your lower back. But, it also shapes your glutes and hamstrings. If you want healthy and shaped midsection, it should be in your workout routine.
Who Should Use Roman bench?
A weak lower back is one of the main reasons for back pain and bad posture. No matter what type of sport you do, you should not forget to train that area. And there is no better gym equipment for that than the hyperextension bench. It is also ideal for those who sit a lot or have bad posture.
What you will learn here?
1. Fitness Reality X-Class Multi-Workout Bench
as of July 9, 2020 6:43 am
Rating: | Good choice of your need a multi-purpose home gym equipment.
From its name, we can see that this is commercial-grade exercise equipment. That means it keeps its quality even under hard usage for long years. Because of this, it comes with a lifetime warranty. Cool, isn't it?
Why we love this model is its useful features and a robust design that allows doing more types of exercises compared to other Roman chairs. It can be used to do the hyperextension exercise, but it can be used as a sit up and a weight bench. This way, you save money as you do not have to buy other equipment separately for your home gym. Plus, you save a lot of space.
The adjustments are another thing that makes it so useful. You can use it as a flat bench, for example, for chest presses. Also, there are 3 decline positions. The thigh support can be set into 14 posts, so you will surely find a location that will suit your needs while you do the 45-degree hyperextension exercise.
The board is 36 inches (92 cm) long and 12 inches (31 cm) wide at the bottom and 8 inches (21 cm) at the top. Such a board is enough for even a taller or broad-shouldered user.
More Features
It has slip resistance handlebars that help you to sit on and get off it, plus it can be used for incline leg raises which is an excellent abdominal exercise. Also, they are suitable for doing push-ups.
The transportation wheels help to move it around the house.
Very thick hip pad. It is covered with 2.5 inches medium density foam, while the tight pad, used for the back extensions, is covered with 2 inches. This way, you do not feel pressure on your back or thighs when you use it.
Extreme maximum weight capacity (sturdy steel frame). This is the only gym equipment on this list that supports 650 lbs (300 kg). So, you don't have to be afraid to use heavy weights with it.
Even if it seems to be a complex machine, the assembly is easy.
Pros
Very versatile
Comfortable
High weight capacity
Robust structure/steel frame
Excellent adjustability for the 45-degree hyperextension exercise
Very stable, no wobbling
Cons
The price is higher than the other products here, but you get what you pay for. A piece of high-quality workout equipment with a lifetime warranty.
Verdict: The buyers are satisfied with the Fitness Reality multi-workout bench. They find this Roman chair comfortable and efficient to use. And those people who have tried other Roman chairs find it a far better option. The only complaints come from those who are over 6.5 feet tall, as they find the board a little bit narrow.
---
2. Marcy Hyperextension Bench

Free shipping
as of July 9, 2020 6:43 am
Rating: | Affordable item for the average user.
The Marcy adjustable hyperextension roman chair is recommended for those who are searching for a cheaper model that suits the needs of an average user.
The manufacturer paid attention to create a product that provides comfortable usage. It comes with assist handles that help to mount and to unmount. And it has a thick hip pad that keeps your upper body in the right position while exercising.
It lets you adjust the ankle pads that are important since you will be set the machine for your maximum comfort and alter the resistance of the Roman chair exercises. For example, it lets you do a side extension that is a powerful exercise to work your oblique.
One reason why this Marcy product is so popular is the price. Compared to other models, it is much cheaper. But, keep in mind that it is not a gym-quality piece of equipment, so it is not suitable for heavier and taller people. So if you are over 6 feet (180 cm) or over 200 pounds (90 kg), you should choose a sturdier chair. People above these do not find it stable and safe enough, although the manufacturer says the capacity is 300 lbs.
More Features
Made from a heavy-duty steel frame that is sturdy enough for an average weight and high user. Durable enough for home-usage.
Easy assembly. It comes with easy-to-follow instructions to put together. It is easy for even a non-techie buyer.
The assist handles can be used for doing dips, but you may not find it comfortable to use if you are shorter.
It has a compact design so that you can store it rather quickly in your home gym.
However, it is not foldable.
Pros
Good price range.
Suitable for home usage and average men and women. It doesn't wobble.
Handlebars for easy mounting and unmounting.
Thick hip pad and adjustable ankle pads.
Cons
It is not the best option for taller and heavier guys. It would be useful if the distance between the feet support and the pad would be adjustable.
Verdict: Users like the Marcy adjustable Roman chair for its affordable price, and most of them like working out on it. Most of the complaints come from above the average trainers.
---
3. CAP Barbell Strength Roman Chair
as of July 9, 2020 6:43 am
Rating: | Cheap item with minor problems.
The Cap Barbell chair is an affordable Roman chair that costs around 80 bucks. It's made of solid steel supporting up to 300 lb maximum weight, but customers claim that over 220 lb, they don't feel it's stable.
We can adjust it horizontally to find the optimal length to our height. By loosening the knob in the middle of the frame, we can pull the front and the rare part of the machine to the required length. Taller guys use it comfortably, but short people may find it too long.
Also, we can adjust the foot holders in 5 vertical positions to modify the angle of the exercise. So, we can do back extensions in 90 degrees and less than that.
The padding for the hip has two separate sections, which makes it comfortable for men to use. The foot holders and the hip pad are thickly padded for comfort.
The stabilizers aren't too long, and because of that, minimal rocking to the sides is inevitable. And, if the assembly is poor, the wobbling is pretty bad. But, the manufacturer added holes on the stabilizers to fix the machine to the ground.
Pros
Affordable
Good adjustability
Splitted-hip pad
Cons
Not suitable for short
Acceptable wobbling
Requires careful assembly
Verdict: Considering the price and the features, the Cap Barbell Roman chair is worth to buy. It's not a professional piece, but for a moderate home workout, it will do.
---
Rating: | Gym-quality unit for professionals, very comfortable to use.
The Body-Solid GRCH322 is a commercial Roman chair. That means more durable materials are used. The steel frame is 2″x 3″ heavy-gauge construction for which the manufacturer gives a lifetime warranty.
The stability of the machine is excellent, thanks to the wide stabilizers and the thick rubber caps at the ends — no rocking and moving even under a heavy user.
Because of the thickly-padded seat and over-sized leg rollers, it is convenient to use. The chair is split, so men use it without discomfort. The foam rollers can also be adjusted in different heights to modify the angle of the exercises.
The only negativity is the size and weight, but the transportation wheels make it less complicated to move it.
Pros
Outstanding stability
 Robust construction
Lifetime warranty
Convenient to use
Gym-quality piece
To conclude: If you are searching for a back extension machine that is close to the one at the commercial gyms, Body-Solid GRCH322 roman chair is a good choice.
---
Rating: | Budget-friendly but good for only moderate training
Stamina hyper bench is a classic 45-degree back extension machine, but it has handlebars, so it's suitable for dips or push-ups as well.
Both the backrest and feet support rollers have an adjustable height. So, you can set it to the distance that suits you the best. Even people who are 6 feet tall can use it comfortably. But shorter users also find it OK to train on.
The price is another good point. You can purchase it for about 100 bucks, but keep in mind that it is not a gym-quality chair. Even if the manufacturer says the capacity is 300 pounds (136 kg), 250 pounds is the maximum. A few heavier users or those who used heavy dumbbells complain about broken parts.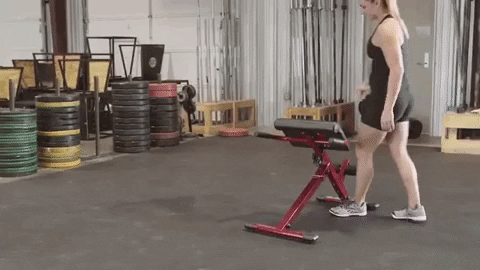 More Features
It can be folded, so it can be easily stored it even if you have limited space.
Suitable for small home gyms or flats.
Handgrips for dips or push-ups. These are excellent bodyweight exercises for the upper body.
The foam rollers and the hip pad are thickly padded for enhanced user experience. Users do not complain about pain in their ankles and stomach while they use it.
Non-slip rubber caps keep this hyperextension equipment in the right position while you use it. But the floor should be flat.
Pros
Affordable price. Good quality for the money
Highly adjustable
Easy assembly
Foldable and compact
Cons
Not suitable for extreme usage and overweight.
The warranty is not clean. You should contact Amazon to get to know.
In a nutshell: Most of the buyers think they get what they pay for, and their user experience is pretty positive. On the other hand, those who put this Roman chair under hard usage complain about broken parts and wobbling.
---
6. Stamina Pro Ab/Hyper Bench
out of stock
as of July 9, 2020 6:43 am
Features
Thickly padded bench with durable stitched vinyl upholstery
Bench adjusts to 4 levels
Adjustable, split thigh support. Recommended use- Use with or without dumbbells for ripped abs and a strong back
Heavy-duty 2" steel frame construction
Easy-to-reach extended hand grips
Rating: | Features for total core training with problems.
This is another model that can be used as 45-degree hyperextension and a sit-up bench. So, with the help of it, you can do a complete core workout at home. Since both the foam rollers and the thigh support can be adjusted to various levels, you get the distance that lets you do sit-ups and hyperextensions safely.
The levels are set with the help of locking pins, but that is the part that has the most complaints. Some users say they fall out too easily and find disturbing at the feet support. Creative users replaced that rod with bolts. That way, they avoid the popping out.
Also, keep in mind that this item is only suitable for those who are under 250 lbs and 6 feet tall. You may use it as a workout bench.
The length of the board is about 30 inches (76 cm). That is OK for an average high man or woman, but taller people have to hold their head up while they do sit-ups. Plus, it can be adjusted just into levels.
Pros
Good price
Functions to strengthen the entire core (crunches, sit-ups, side hyperextension, etc.)
If you are light, you are allowed to use light dumbbells to increase resistance.
Easy storage
Cons
Problems with locking pins
Small for taller users
Not sturdy enough for pro users
The warranty is unknown, should be asked from Amazon
Verdict: If you are not so tall and large and you need fitness equipment that provides more functions than a simple hyperextension bench, this model will do for you. Considering the price, the features, and the user experience, Stamina Pro is not a bad Roman chair at all.
---
Buying Guide
Types – 45-degree angle vs. 90
Depending on the structure, there are two types. One that allows doing the back extension exercise in a 45-degree position, and one when you lay face to the ground in a horizontal position. Some models are adjustable so that you can change the angle for more or less resistance.
The 45-degree Roman chair is maybe more helpful for beginners since it's easier to perform the extension move, but with that, we can do more reps and sets. Also, we can use light dumbbells to make the exercise more challenging.
The horizontal chairs are much harder to use simply because of the gravity and the range of motion. So, they strengthen your lower back muscles completely. Pro athletes also use weights to add more resistance.
Personally, since I'm not a newcomer, I prefer the flat hyperextension benches.
---
What To Look For When Buying a Hyperextension Bench
The back extension exercise can be a dangerous activity if it is done incorrectly or on a badly-made unit. If your legs slip out, you may fall off and hit your face into the ground. Or if it isn't stable, you may also land on the floor.
Another crucial point is to check if the Roman chair fits your weight and size. If you are taller or shorter the average, you should pick a back extension bench that lets you place your legs or feet in the right position so that your lower stomach is positioned comfortably on the hip pad. This is important to perform the extension correctly and to avoid pain in your feet and abdominal muscles. So always pay attention to the adjustability of the product.
If you are heavier than average, always pick a solidly-welded machine. Light models will break quickly and wobble under you.
Another critical factor is the balance and stability of the chair. It should have rubber protections at the bottom to avoid slipping while you work out on it and to prevent the scratches on the floor.
And finally, the price and the functions. As you could see above, there is equipment that can be used for more than just for the back extension. For example, there are ones with a sit-up bench that is excellent for training your abs, or all in one piece of equipment for weight training. Everything depends on your budget. However, if you can afford it, it's more satisfying to buy a multi-workout model like Fitness Reality since you strengthen your core muscles totally, and you will be able to use it for other purposes.
---
FAQ
Roman chair exercises for lower back pain? Are they safe?
In most of the cases, you have lower back pain for two reasons: you have weak lower back and spine muscles, or you have medical problems such as a hernia.
So, before using it, always consult with your doctor to know the reasons for your pain. If you have medical problems, hyperextension bench exercises can make things worse.
Learn: How to use a roman chair
What is the difference between the Roman chair and GHD?
The glute ham developer (GHD) because of the design of the machine more load is placed on the hamstrings besides the lower back. So, if you want to strengthen your hams and glutes, a GHD is a more suitable option.
On the other hand, if you use the Roman bench, the load is on the posterior chain. That means multiple muscles such as your lower back, spinal erectors, and glutes. All these muscles are engaged to lift the torso.
Conclusion
Compared to other pieces of equipment such as a home gym machine, it looks like an unimportant machine. But the Roman chair benefits are numerous. Strong lower back and spine muscles are vital for the health of your upper body and performance in any sports. And if you already have back pain, you can also cure it with it but always consult with your doctor before. Finally, it is the best option for those who sit a lot and want to develop their posture.
I hope you find the best Roman chair for you. If you have questions feel free to ask below.