We can use free weight to work lower arms, fingers, and wrists. Meanwhile, we can also use it to strengthen our grip. However, there are some useful hand grippers and exercisers you can use to target those mentioned areas.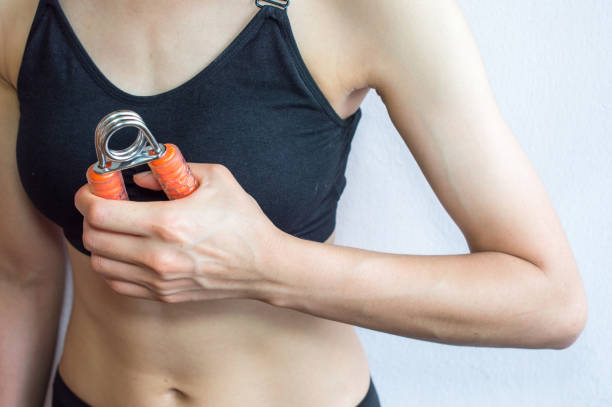 Hand grippers let you complete quick yet efficient hand workouts. They come with different resistance levels, sizes, and forms.
What are the benefits of hand grippers?
They are small equipment; you can use them anytime, anywhere.

They train your fingers, hand grip, and forearm effectively, leading to better workouts. Thus, helping you avoid several injuries.

You can choose from various resistance levels. You can choose either beginner or advanced level.

They are affordable.
Even if you can find reviews of some hand exercisers here, the best hand gripper equipment is definitely the FitBeast Hand Grippers.
It is the most popular model out there with tons of positive reviews.

Top 6 Hand Strength Grippers
1. FitBeast Hand Grip Strengthener Workout Kit – BEST OVERALL
Comfortable and durable

Injury rehabilitation

After-sale customer service
2. IronMind Captains of Crush Hand Gripper
Made with premium materials

Top-drawer training tool

Progressive training
3. The Friendly Swede Hand Grip Strength Trainer
Friendly design and durability

Perfect for preventing tension

Great stress-relief trainer
4. PROHANDS Gripmaster Hand Exerciser
Spring-loaded hand exerciser

Perfect for athletes' training

Graduated tension levels
5. Sidewinder ProXtreme Original
Best for fore-arm grip workout

Fat grip wrist/forearm trainer

Adjustable resistance
6. GD Hand Grip Strengthener
Adjustable hand gripper

Different resistance levels

Silent and solid operation
Hand Gripper Reviews
1. FitBeast Hand Grip Strengthener Workout Kit – BEST OVERALL
FitBeast workout kit offers the best hand grip exercises in this round.
Ideally, it contains resistance bands that you can easily adjust from 22 to 132 lbs. depending on your strength needs. It also has a stress-relief grip ball that's made with high-elastic materials for releasing your hand's pressure.
This workout kit is suitable for everyone, as it delivers a hand grip strengthening system that improves your strength, power, and speed, most especially in the wrists, fingers, and arms areas.
You'll also love the fact that the hand exercisers are comfortable, durable, and ergonomic. Nevertheless, this is a perfect hand grip that caters to all ages.
PROS
Suitable for everyone

Perfect hand grip for men and women

An ideal item in the list that you can use to recover from hand injuries, rheumatoid arthritis, carpal tunnel, fractures, and so on
Includes excellent customer service. It offers free and unique tutorial workouts and videos that target your plan
CONS
Issues with shipping the product

Some customers feel some pieces are a bit stiff
2. IronMind Captains of Crush Hand Gripper
It is a traditional hand exerciser equipment that works wonders. IronMind Captains of Crush hand grippers are recommended by bodybuilders. It's simple yet efficient, even for those who are on the advanced level.
PROS
We can choose from various sizes, from easy ones to brutal hard. You can choose from 11 levels, from 60 lbs. to 360 lbs
The string is made from high-quality steel, and the handle is made from aluminum. These are heavy-duty hand grippers

Has durable structure

Made in the USA by IronMind
CONS
Some users find the handle a bit uncomfortable because it tears in the skin of the hand

It is not recommended for beginners since existed strong grip is needed even for the easiest one
3. The Friendly Swede Hand Grip Strength Trainer
Need something cheap? Then, get a squeeze ball. They are not as efficient as the equipment mentioned before, but these squeeze balls work incredibly. I recommend them for women. The Friendly Swede hand grip strength trainers are considered medical hand grippers.
PROS
You can choose from various resistance levels, from easy to harder

Made from durable thermoplastic rubber

You can choose from various colors

You can bring them everywhere since it's small in size

The diameter is 2 inches, which are optimal for hand training
Good for rehabilitation activities
CONS
Some people may find the size too small
4. PROHANDS Gripmaster Hand Exerciser
PROHANDS Gripmaster hand exerciser's price is not bad. In fact, many customers buy and enjoy this hand trainer at their home's convenience. During workouts, trainers feel the benefits in their fingers, hands, wrists, and forearms.
There is no question that Gripmaster products are useful equipment. There are various versions based on the amount of tension.
PROS
The compact design lets us use it whenever we want

Separate finger buttons so you can use them in several ways

Several variations. You can choose from easy, medium, and advanced versions

The resistance can be tweaked from 3 to 9 lbs.
CONS
Some users find it a bit uncomfortable to use, especially the fingertips

Others with bigger hands found this hand exerciser too small to use efficiently
5. Sidewinder ProXtreme Original
It's surely a unique grip and forearm strengthener having many positive reviews. It works the fingers, grip, hand, and forearm muscles with different moves. This wrist roller comes with various versions based on resistance.
You control the resistance by turning the built-in calibrated tension gauge. When winding the handles, twist them with one hand or both.
Alternate hands after each set using both clockwise and counterclockwise motions. All Sidewinders twist smoothly and quietly.
PROS
Very solid parts

We can adjust the resistance level in several ways
It keeps the resistance level no matter how many reps and sets you have done before

2-inch grip size to have more efficient workouts

Pretty heavy, so it works other body parts as well
CONS
Rather pricey product, but there are versions that are more affordable

Big and heavy so it is not portable
6. GD Hand Grip Strengthener
This is a rather new model that become quickly popular among the fitness community for its smart structure, durability, and adjustments.
The whole gripper is made from metal parts, so it lasts for long even in the hand of a pro user. Its design is a kind of combination of the Captains of Crush and the grippers that come with springs.
Users love it for its high adjustability since the resistance can be set from 55-198 lbs (25-90kg). Hence, both beginners as pro athletes can find a level for their needs. Plus, you do not need to buy another tool as you develop or you can alter the resistance level during a particular exercise. There are 6 levels you can choose from.
With that being said, we can refer to it as an all-in-one hand gripper.
PROS
You can extend the length of the handles since this gripper comes with add-on parts.

Made with high-quality materials

Encompasses 6 levels you can choose from

A quality hand and forearm strengthener that will last for long and provides good training for the long run.
CONS
Not the cheapest compared to other heavy grippers listed
Sale
How to Buy Hand Grip Exercise Equipment?
The most important factor you should keep in mind is the level of resistance. If you have not had hand workouts before, you need to pick a gripper with a low resistance maximum of 10 lbs.
If you have some workout experience, or if you know that your grip and forearm are already strong, you can buy harder ones.
If you are used to lowering arm and grip training, you can choose the most difficult one to get the results you want.
From the video, you will learn how you can build stronger hands with heavy hand grippers.
Besides, you can learn hand gripper exercises from the following video. Learn why a strong grip is important here.
Did you find the best hand grippers for forearms and hands? Share this guide with your friends!
Last update on 2022-10-13 / Affiliate links / Images from Amazon Product Advertising API