Living the Paleo lifestyle doesn't have to be all about denying yourself the pleasures of sweet treats or punishing yourself until you can't take any more and then sneak a cheat. Believe me paleo cookies can be as delicious as others but they are extremely healthy and helps you to lose weight.
All your favorites from brownies to cookies and ice cream to cake have been recreated with paleo-friendly ingredients by some of the top chefs in the world. Many of the recipes you'll find here take only a handful of ingredients and are fast and easy to prepare. Still they pack enough yummy sweet goodness to tackle even the toughest cravings.
They also use all natural flavors with nothing artificial and pack in a ton of nutrition. Some of the flavor combinations are going to be new to you, but we guarantee you'll find a few favorites. Being a great paleo cook is about doing a few things well, so here are a couple of tips to get you prepared.
Organize Your Kitchen Like a Child
While Julia Child may not have been a paleo purist she certainly had a strong streak of a cave dwelling meat eater. Child could wield a cleaver like a Samurai and listed red meat and gin as her two main comfort foods. "The best way to execute French cooking" she would say was "to get good and loaded and whack the heck out of a chicken."

Julia Child's kitchen was a shining example of culinary engineering. Designed by her husband and used as the set of three of her cooking show series, Child's kitchen is now permanently on display at the Smithsonian. The kitchen featured a massive central island and a pegboard storage system that inspired thousands of DIY kitchen renovations. Everything had its place, and every tool was easily accessible.
Using Julia Child's take no prisoners approach to French cuisine as a shining example, the best way to successfully meet the challenge of becoming a paleo chef is to make your life as simple as possible. Organize your kitchen so that the pots, pans and dishes you use most often are at the ready.
If there is a small appliance like a juicer, vacuum sealer or a serious food processor that would make your life a whole lot easier then make the investment. Julia Child spent years amassing her collection of copper cookware and kitchen gadgets.
You can do the same by buying essential pieces first and then add more as you go. The most useful kitchen tools are not always the most obvious. As Julia Child once said, "I think every woman should have a blowtorch".
To make your life easy and make it simple to stick to your paleo diet, stock your fridge and pantry with the most common ingredients you'll need, and you'll never have an excuse to cheat. With a small arsenal of the right paleo friendly ingredients, you'll have dozens of simple and easy to make dessert options at your fingertips.
There are just some things that no kitchen should be without (blowtorch) so make sure yours is paleo diet desserts ready.
Your Top 12 Paleo Dessert Ingredients
1. Chocolate
Chocolate how I love thee, let me count the ways. To cut down on the amount of refined sugar you are adding to recipes that call for chocolate choose a good quality dark chocolate. You can also split the recipe with equal amounts of dark chocolate and unsweetened cocoa powder for an excellent chocolate flavor with much less sugar. You can find many delicious paleo chocolate desserts below.
2. Almond Flour
One of several non-grain flours used as a substitute for all-purpose flour found in many baked dessert recipes. Often flour is combined with coconut flour for an extra layer of flavor. You may also buy almond butter as well. Below you can find recipes using almond flour.
3. Arrowroot Starch
Another wheat flour substitute, archeological evidence indicates arrowroot cultivation in the Americas goes back at least 7,000 years. As one of the earliest domesticated plants, it was likely an important part of our hunter-gatherer ancestors diet as well.
4. Cocoa Powder
All the chocolate flavor you crave with none of the sugar. Often combined with dark milk chocolate for gobs of chocolaty goodness.
5. Coconut Flour
Coconut flour has the highest dietary fiber content of any flour and is naturally low in carbohydrates. Many recipes combine coconut flour with almond flour. I love coconut flour cookies; they have such a yummy taste.
6. Coconut Oil
An excellent source of fat for any practicing paleo, coconut oil is easily digested and as a medium-chain fatty acid (MCFA) it can be easily converted into energy by the liver. Because energy from MCFAs is readily available, the body doesn't store calories from coconut oil as fat. Other good sources of fat for paleo desserts recipes include avocados, olives, olive oil, shredded coconut and coconut milk.
Related
Coconut Oil Amazing Health Benefits
7. Shredded Coconut
Shredded coconut is a source of healthy fat and great coconut flavor as well as adding a crunchy texture to many paleo coconut cookies.
8. Honey
As the oldest known sweetener honey has many health benefits as well as natural antibiotic and antibacterial properties. Honey has been shown to lower harmful elevated blood sugar levels so when possible use organic raw honey as it retains many nutrients that are lost in over-processed varieties.
9. Maple Syrup
Another great natural sweetener is pure maple syrup that packs a surprising number of nutrients. Maple packs a lot of sweetening punch which means a little goes a long way but still it contains only two percent fructose. Compared to honey it has much higher levels of magnesium, calcium, zinc, and potassium.
10. Olive Oil
The different flavor and aroma of olive oil means that many paleo dessert recipes opt for the relatively flavorless coconut oil instead. It's still used for many paleo approved cake, muffin and cookie recipes that combine sweet and savory.
Related
Best 5 Healthiest Oils You Need to Have
11. Sweet Onions
There are several varieties of onions that have a sweet flavor and are not as pungent as the more common yellow onion because they are naturally lower in sulfur and higher in water content.
12. Seasonal Fruits and Vegetables
From bananas to blueberries and pumpkins to peaches, seasonally available fruits and vegetables will help add the zing to your favorite paleo recipes.
Whether its luscious chunks of fresh peaches baked in a muffin or shredded zucchini in a batch of triple chocolate brownies, you can never get enough fresh seasonal fruits and vegetables. Look for organic and locally grown whenever possible.
Now you know the paleo food list for making desserts
Within the list below you can find over 70 easy paleo desserts that you can make at home even if you are not so familiar with cooking. You can filter the list by using the tags based on ingredients.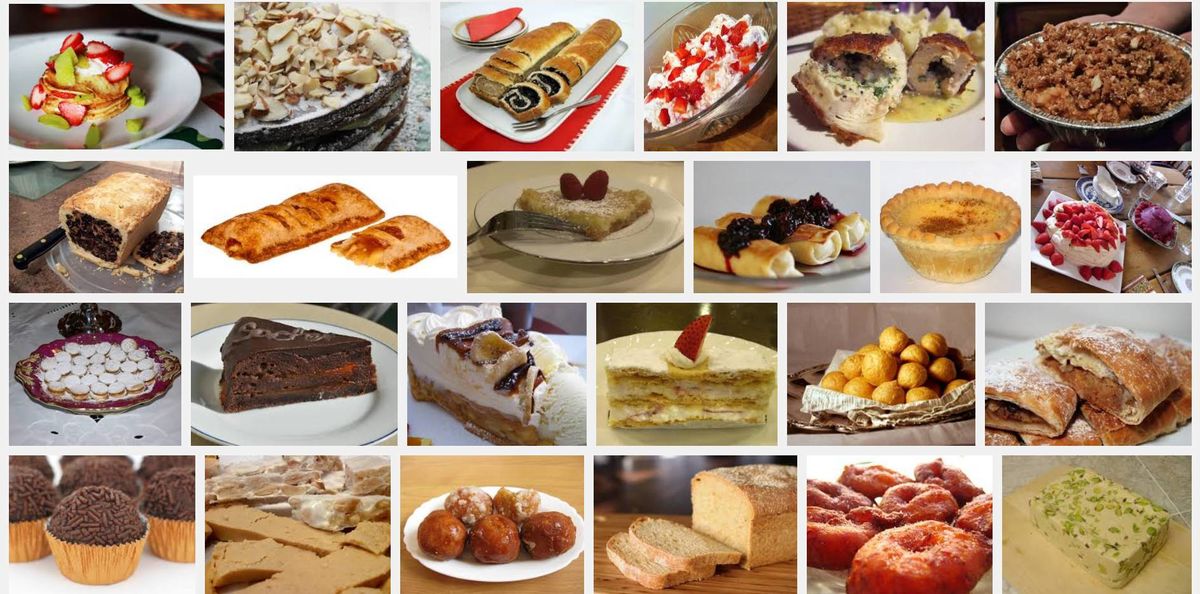 Do you know other paleo-friendly desserts that should be mentioned here?
Share with us below.
Did you find these Paleo dessert recipes yummy and the guide useful? Share with your friends.