There is no doubt that the push up is one of the most efficient bodyweight exercises that works the entire upper body. While it is mainly done for chest workout, it also trains the shoulders, triceps, back and even the abs. We can say it is an all in one movement for the upper body.
There are hundreds of variations out there which make this exercise even more efficient, and there are a few excellent push up equipment as well. With the help of them you can boost your home workouts.
On this page, you will find all kinds of information about these types of tools. You will see it is worth to shop one.
Push Up Stands Reviews
1. Tony Horton's PowerStands
Heavy-duty push up gear with circle stand for better stability and ergonomic handle.
Ergonomic design
Comfortable foam grip
Angled to eliminate wrist pain
4.5
2. Perfect Pushup Elite
It is designed to rotate slightly for comfort and better muscle activation.
Engages more muscles
Ergonomic grips for comfort
400 lbs weight capacity
4.5
3. Power Press Push Up
Color-coded push up board that lets to target specifics muscles. By placing the bars in various positions, you can target your chest, shoulders, triceps, or back. It is a total upper body strength training system.
Color-coded board targeting specific body parts
10 week push up workout calendar
Multiple positions and angles for targeting
4.3
4. Cap Barbell
They work for what they're made for. Affordable and durable.
Chrome plated push up holders
Cheap
Slip resistant
4.0
5. Perfect Fitness Rip Deck
It combines sliding chest fly and the rotating push up movements into one to engage more muscles with a compound exercise.
Engages more muscle groups
Locks in seven positions
Allows 9 types of activities
4.0
5. Maximiza Push Up Stands
Sturdy, long-lasting chrome steel bars and very steady.
Chrome steel
Each bar holds max. 330 lbs
Protects wrist
1. Tony Horton's PowerStands – The most stable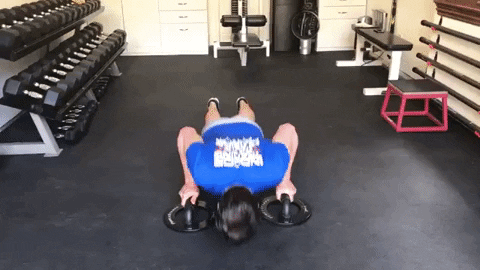 Well-designed and durable stands from Tony Horton, a fitness expert. Thanks to the angled and foamed grips, users do not experience hand and wrist strain. Because of the large circle base, there is no wobbling, so the usage is very safe. It is made from ABS a very durable material.
Pros
Ergonomic design to make perfect press ups and to eliminate stress on the wrists.
Comfortable and safe foam grip.
Made from heavy duty materials.
The circular basis are covered with non-slip material for safe usage.
Cons
A few users complain about that they got a plastic version instead of the steel one, but most of the buyers think that the plastic one is as sturdy.
Others find it a little bit too short.
2. Perfect Pushup Elite – The most flexible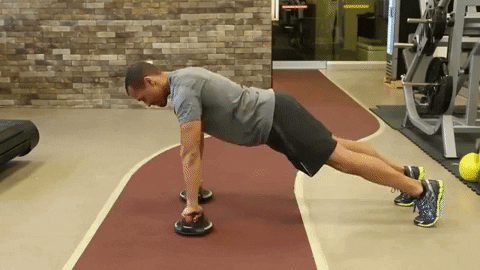 Perfect Pushup Elite stands are excellent pieces of home exercise equipment for bodyweight training at home. Thanks to the smooth rotation (rotates 360 degrees), the muscles are activated better. Also, you can have more natural movement which does not put such stress on wrist and shoulder joints. Finally, you can target your triceps or chest more effectively. It can be used up to 400 lb so you can use it with a weighted vest.
Because of the rotation function it lets do more types of exercises and wrist-friendly. I think it is the best sliding push up stand out there.
Pros
It can be used up to 400 lbs
Made from durable materials.
Invented by the Navy Seals.
Because of the design and material of the circular basis it works fine on most of the floors and provide smooth moving.
It comes with special push up bar workouts guide that helps to learn a wide range of drills.
Cons
A few customers complain about the breaking of the handle.
3. Power Press Push Up – The most versatile
As you probably know by changing the width of your arms, the position of your hands and the posture of your body you can focus on different body parts. It comes with a colored board that allows you target the various muscle groups. You can place the push up stands into the right position.
Pros
It lets you choose from many positions and angles, hence besides chest muscles you can target your back, shoulders, and triceps better.
Portable, easy to assemble and store.
Comfortable, safe and non-slip grips.
It comes with a strength training DVD to learn the exercises and find various workout routines.
Cons
A few problems with shipping.
5. CAP Barbell – Best Fitness Push Up Bars
One pair of high-quality, chrome plated push up holders.
Pros
High quality and sturdy chrome holders.
Rubber footpads for safe usage.
Unique design to enhance press ups.
Cheap
Cons
A few buyers complain about shipping problems, missing screws.
6. Perfect Fitness Rip Deck System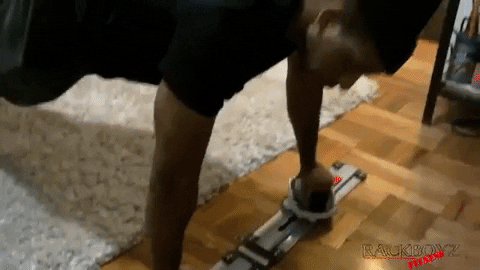 With the helps of this equipment to efficient moves are combined. These are the rotating push up and the chest fly. These two bodyweight exercises stimulate all parts of the chest very effectively. However, you can lock the system in case you want to perform regular press ups.
Pros
With the help of it, you will be able to engage more muscles because of the compound movement.
Seven locking positions to adjust the range of motion, so it is suitable for beginners as well as advanced users.
9 valuable movements to work almost your entire body.
Do abdominal training with it as well.
It comes with workout plans and guide to do the exercises correctly.
Cons
Beginners find it hard to use first.
Buying Guide
What sort of push up training equipment are there?
The first type is the push up bar or push up stands. It is a simple, affordable workout gear that is sold in pairs. They let you go deeper while you do the moves. They come with non-slip handles and footpads.
Another type is those which come with circle pads that are smooth. This way it is harder to perform the moves, but it works several other secondary muscles. Furthermore, you can spice up the push up move with other movements.
There is also some special fitness equipment that are designed to increase the efficiency of press ups. You will see a few examples above.
Finally, there are a few tools that are not specially made for enhancing the push up move but they are beneficial as well. Stability ball that make harder to perform the practices since you have to keep your balance. Power towers that in most of the cases come with a press up and dip station.
Here I only talk about the products that are specially made for press ups.
Push up bars vs regular push ups
With the help of the mentioned stands and bars, you will be able to go deeper, which stimulates the muscles more efficiently. It leads to better muscle and strength development.
They allow you to perform far more types of muscle building exercises to train your chest muscles in different angles. In most of the cases, you can do more difficult workouts.
Use these tools anywhere and anytime. They are small and portable, and they do not need so much space to use.
Make a wide range of bodyweight compound activities that stimulate not only the chest but almost all the other muscle groups. It is a proven fact that compound exercises are the best to burn calories and increase strength.
Very affordable, most of the items cost only some buck.
What features to look at?
Only purchase those products that are made from sturdy materials to avoid injuries. It will be under your weight.
Read the reviews if users find it comfortable to use, and it lets to perform the push movement naturally.
It should have a comfortable and non-slip handle.
Check how much is the maximum weight it can handle. Usually, it is about 300 lbs, but keep in mind that you may want to use it with a weight vest.
Always read the customer reviews and learn its specifications and warranty.
After checking out some online stores, the best place to buy push up equipment is Amazon, the prices are lower, and you can find huge discounts.
There are maybe more types of equipment out there which help to boost the push up exercise, but I think these are the best ones. No matter which you are going to buy, it will be a useful part of your home gym.