No-Running Exercises You Can Do On the Treadmill
If we think about a treadmill, the first thing that comes to our mind is running or walking. But this machine is more versatile than you think. It can be used for several other exercises to strengthen your almost all the muscle groups of your body.
It is especially beneficial for leg training to make moves like walking lunges. But as you will see from the list below a treadmill can be used for your abs, chest, shoulders, and arms.
So, let's check out these unusual yet efficient treadmill exercises.
1
Killer Treadmill Lunge, Leg and Bubble Butt Workout
Sep 07, 2016 - youtube.com -

277
This routine will help you to shape your hamstrings, legs and your butt.
Sep 07, 2016 - youtube.com -

162
This workout is a good example how you can enhance the traditional exercises such as push ups and mountain climbers to get better results.
3
39 Ways To Use A Treadmill Without Running
Sep 07, 2016 - youtube.com -

154
There are some funny moves in this video but I'm sure you can learn some great exercises.
4
3 Great Booty Workouts On The Treadmill
Sep 07, 2016 - youtube.com -

132
Learn 3 efficient and funny exercises to shape your booty. But, they are also good for cardio.
Sep 07, 2016 - youtube.com -

117
Bored with walking on the machine? Try these moves! They help you to train your legs from different angles, and they boost your heart rate up for sure.
Sep 07, 2016 - youtube.com -

111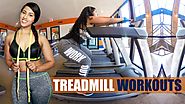 I like this routine since weight and body weight training is combines with cardio. Excellent combination to develop endurance.
7
Walking Treadmill Plank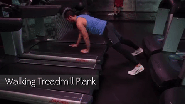 Plank is an excellent core exercise. With this twist you can make a little bit more exciting.
Credit: www.womenshealthmag.com
Recommended:
Best 17 Treadmill Workouts To Burn More Fat
Did you like these treadmill exercises? Share with your friends!